Powder Mixer: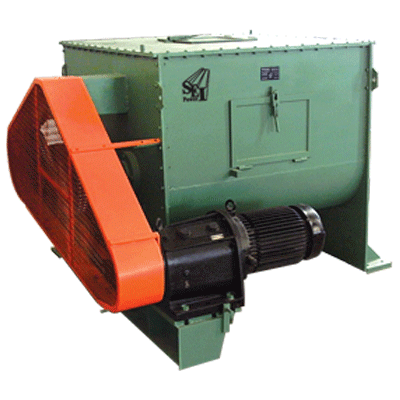 This type of mixers is applicable in several fields of industries such as the chemical, pesticide, pigment, food, pharmaceutical, feed stuff additive, construction materials, plastics etc.

During the mixing process liquid mixture spraying is also possible. The mixing chamber can be operated under vacuum for certain applications.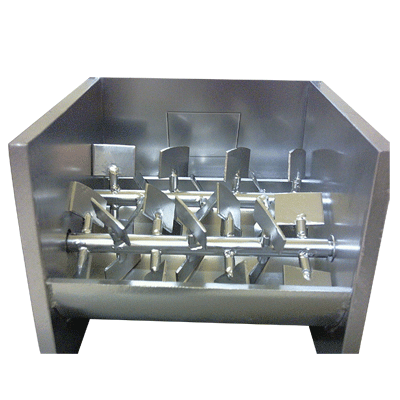 Structure:
It is a double-cylinder horizontal type mixer with coincide multi-blade two shafts. A liquid spraying device (optional) is installed on the top. The matter is loaded from the top and discharged from the bottom after the mixing.
Features :
This precise mixer has a very high productivity, despite its compact structure, due to its high efficiency that also contributes in time, power and money savings. The mixing process is operated in sealed circumstances, which leads to a low noise, pollution free environment
Model
SSM-250
SSM-1000
SSM-2000

Full volume (m³)

0.5
2
4.2
Charge Factor
0.4-0.6
0.4-0.6
0.4-0.6
Installed Power (kw)
5.5
11
22
Feed inlet size (mm)
1

400 x 400

1

450 x 450

1

500 x 500

Discharge outlet size (mm)
2

250 x 200

2

250 x 250

2

300 x 300

Inspection gate size (mm)
2

450 x 300

2

500 x 350

2

400 x 600

Primary mixed amount (kg)
250
1000
2000
Mainframe outline dimensions (mm) L x W x H
1580 x 980 x 1050
2150 x 1900 x 1300
2420 x 2350 x 1650
Self Weight (kg)
890
3250
5000
Optional Features: